Bathroom Remodeling
Searching for a Bathroom Remodeling Company Near Concordia, OR?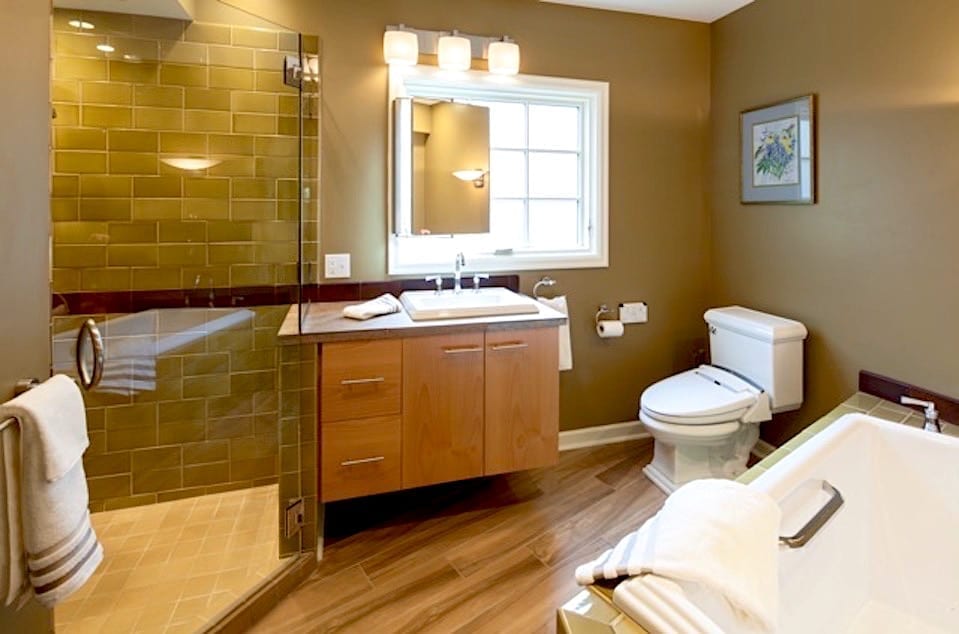 A well-designed bathroom can create the perfect touch such as a stylish powder room to a beautiful master bath. The bathroom should function in a manner where you feel you have stepped into a private getaway. The layout, materials and fixtures should reflect the true meaning of a rest room. 
So, when it comes to planning for a bathroom remodeling project, there are a lot of things to consider so that it will become a room where everybody will feel comfortable and welcome.   
At Mac-Bo, we want your remodeled bathroom to be a perfect combination of good looks and effective functionality. A bathroom remodel can take on so many forms of style, materials and color.  Let us be your partners in deciding what will work best for your personal space.  
The picture on the top of this page features a bathroom we added to our clients' master bedroom.
We have classic tile accents, an obscured glass half lite pocket door, and conveniences which include heated floors and a special custom cabinet with three built in clothes hampers.
The picture in this section shows a remodeled bathroom which features unique style cues which include a 'wood look' tile floor set on the bias, a low curb shower and a swing away mirror which locates in front of an obscured glass window.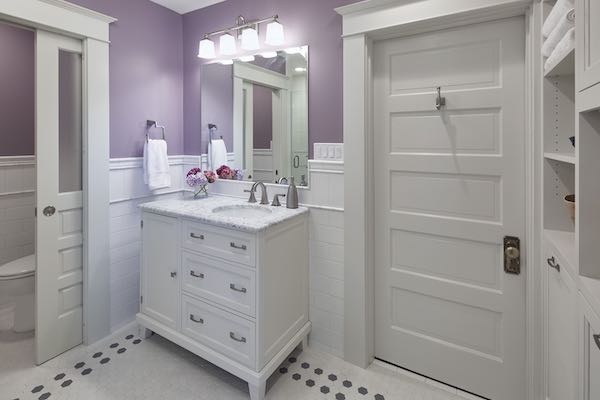 In the pictures that follow, you will find another classic traditional style of bathroom remodeling project.
 In the first you will notice the contemporary lines of this custom bath. The sandstone floor tiles are echoed in the stone countertops, Wall mounted fixtures allow for a clear countertop. The cabinetry wraps around for more storage.
In the second you will notice the walnut accents throughout including the hardwood floor. The designer included a granite backsplash for the wall hung toilet and matching countertop and tile accented backsplash for the sink.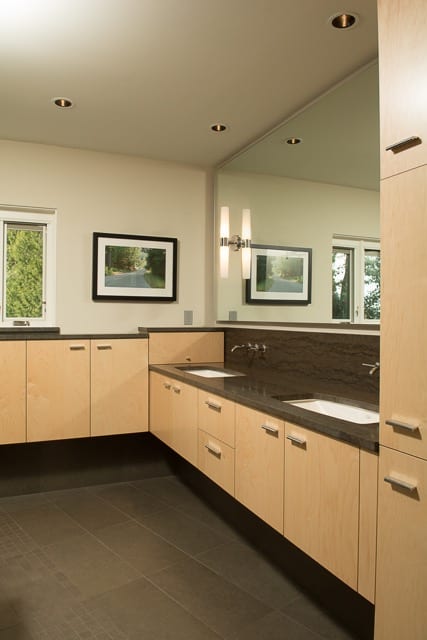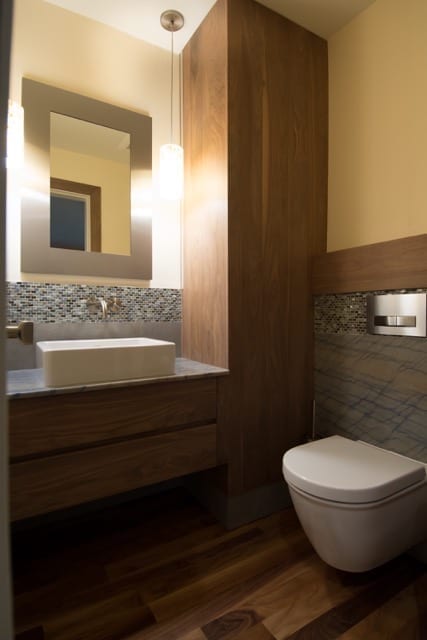 Bathroom remodeling is one of the biggest and most important changes in every home.
It reflects the homeowner's dreams, needs, style, and wishes. The perfect bathroom remodel project has a well-balanced design so it fits everyday usage. 
In this next picture you will find yet another varying style of bathroom remodeling project.   Notice the playful wallpaper of this custom designed bathroom wrapped in clear fir tongue and groove paneling and trim.
Contact Mac-Bo so that we can schedule an appointment to help make your Bathroom Remodeling dreams come true.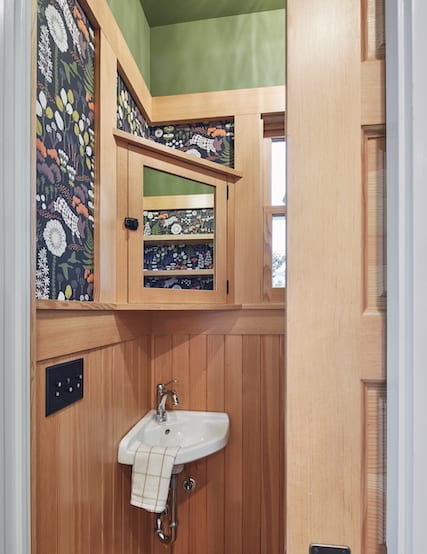 Testimonials
---
"After 26 years of living with one bathroom we asked Ed if he could bring us to the present with a new full bath and an update to the one we have. I'm so happy every time I walk into my new bathroom, it is everything I hoped for and more."
"We worked with Ed's designer to make plans for our new bath. We had several things we wanted: Heated floors and a steam shower were two of them. Ed worked with the designer and met with her on site during construction and to assure every detail was covered."